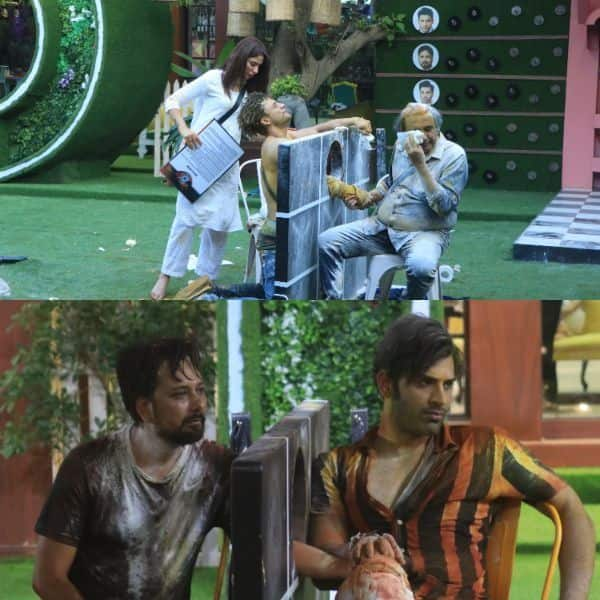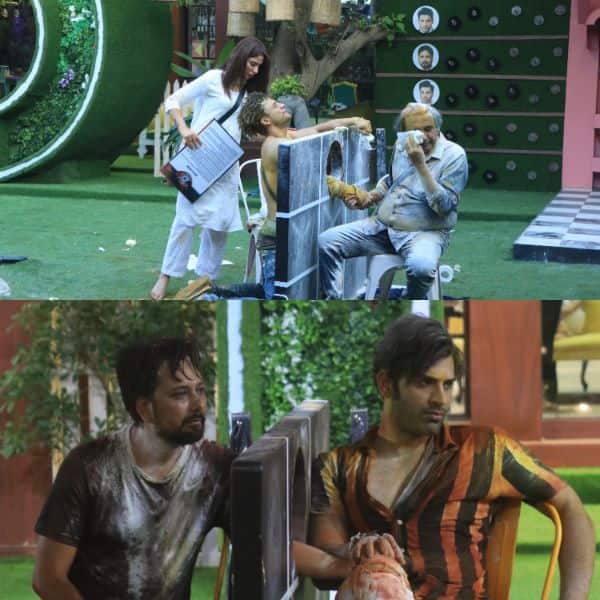 Bigg Boss 13's Day 19 begins with the contestants waking up to Aivanyi Aivanyi and also suspect that there is something which will happen today. Shehnaaz and Siddharth Shukla have fun in the jail while Arti Singh sits there to support her friend. Shehnaaz teases Shefali Bagga while she does exercise. Bigg Boss now announces that Siddharth Shukla and Shehnaaz can now get out of the jail and they both dance with joy. Paras Chhabra announces the task given by Bigg Boss for the male contestants to be saved from getting eliminated. The boys were divided into two teams. One will have Paras and Siddhartha Dey and the other will have Abu Malik and Asim. Both the team members have to hold each other's hand and between them will be a small wall. The team which leaves the hand first will lose and will not be saved. The girls have to support their favourite team and make sure the next team will leave the hand. Siddharth Shukla is safe so he will be the Sanchalak.
Both the teams plan their game while Siddharth advises Asim to play the game. The game begins and Arti Singh starts tickling Siddhartha Dey. But he starts talking badly with her. Siddhartha Dey talks dirty about Arti as she puts shaving cream on him. Shefali Bagga applies oil on Asim and Abu Malik's hand. The girls leave no stone unturned and make every possible move. Arti Singh gets hurt when Paras Chhabra tries to defend himself. Arti gets violent while Mahira tries to stop her. Arti and Mahira get into a physical fight when Arti tries to hurt Paras. Shefali and Asim also argue task. Asim Riaz tries hard to remain in the game. Arti Singh's aggression knows no bounds and she keeps trying so that Paras or Siddhartha will get up. Seeing the aggression Bigg Boss announces that they cannot get physical in any way. The game begins once again. Paras Chhabra fights with Siddharth Shukla and calls him biased. Siddharth Dey loses his cool and uses bad words for Shehnaaz. Shehnaaz yells at him for using bad words. The girls use haldi and mirchi powder. Siddhartha Dey seems to have lost his limits and speaks dirty. The girls use food items and Paras tells him not to waste. Siddhartha Dey defends himself using bad words and Arti Singh gets angry. Asim Riaz struggles and tries to save even Abu. Siddhartha Dey defends himself and physically hurts Arti. Shehnaaz gets angry on him. Siddhartha Dey's dirty words hurt the girls and Arti Singh gets hypered. Mahira Sharma and Rashami console Arti. Shefali applies bleech on Asim and he shouts at her. Rashami gives water to Siddhartha Dey and he tries to wash his face but Siddharth Shukla takes back the water saying its not allowed to wash the face. Siddhartha Dey tries to defend but Sanchalak says that he cannot be physical. Devoleena tries to tell Asim to the hand. Asim cries but does not leave the hand. Asim tells Abu not to leave his hand even if he falls unconscious. Abu Malik cries for Asim. Bigg Boss announces that in the name of task one should not neglect the health. Mahira consoles Asim and Shefali apologises to Asim for being harsh on him. Asim requests Rashami to make tea. Shehnaaz says Rashami might mix something in tea and Paras asks her to clean her thought. Arti jumps in says that Paras had said that he is just using Shehnaaz for getting close to Mahira and they argue. Siddharth Shukla confronts Siddhartha Dey for using dirty comments on Arti Singh.
Siddhartha Dey crosses his limits and Siddharth Shukla loses his cool. Arti Singh tries to stop Siddharth Shukla. Arti Singh fights with Rashami as she had told her its about task. Siddharth taunts Siddhartha Dey that he can touch those who want to get touched. And this hurts Shefali, Rashami and Mahira who feel he is talking about them. Shefali questions Siddharth Shukla about it. Arti Singh is frustrated about the dirty words used by Siddhartha Dey. Devoleena and Rashami talk about Siddharth Shukla. Rashami says that Siddharth was wrong in involving other girls in Siddhartha Dey's dirty words. Siddharth Shukla listens to it and tells about it to Arti. Later Bigg Boss announce that he has to stop the task as no contestant is ready to give up and he cannot wait more as it can affect their health. He also says that he liked the way they housemates have played. Later Paras Chhabra and Rashami talk about Siddharth Shukla.
Story Timeline