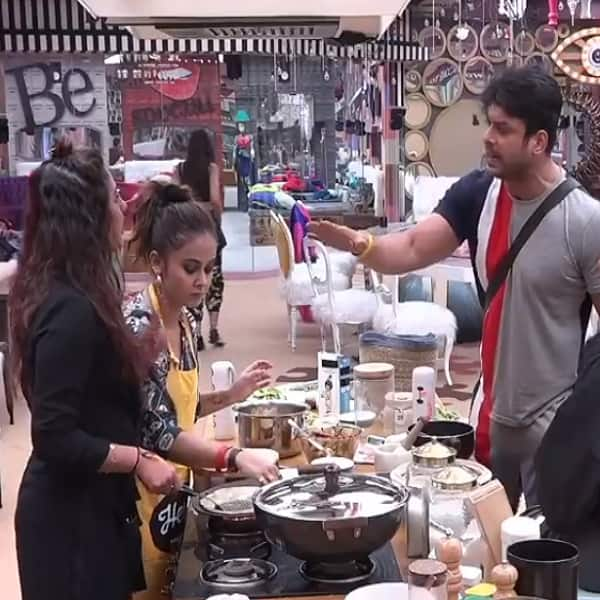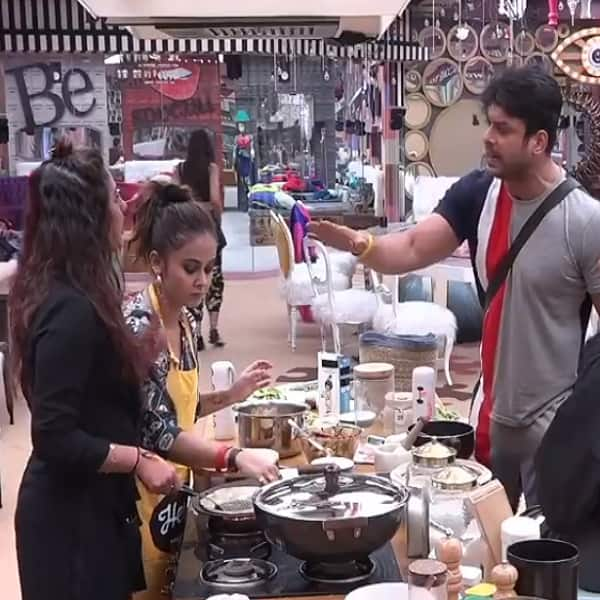 Bigg Boss 13's day 9 has been full of drama, twists, and fights. The day of the Bigg Boss housemates began with a huge fight regarding food and slowly we saw the two "good friends" getting into a huge fight. Yes, we are talking about Rashami Desai and Siddharth Shukla. Siddharth and Rashami had a fight over the parathas being made so thick which went on to another level. The two fought over unnecessary things and this was the very first time we saw Siddharth getting worked up over a silly thing.
Initially, Siddharth Shukla had an argument with Devoleena over the parathas. Rashami Desai entered the kitchen and supported her kitchen mate Devoleena which irked Siddharth and he starting fight over it with Rashami. Their fight soon took a personal turn and they started commenting on each other's past. Well, we thought Siddharth was unnecessarily fighting with Rashami and he surely needs to control his anger. His gentleman's image would be lost if he continues to react in this way. Even fans are not happy with the way Siddharth Shukla behaved today. They feel he needs to keep control of his anger. Take a look at some of the twitter reactions here:
Siddharth Shukla finally showing his inner armaan Kohli as I said before, he's upgraded armaan Kohli with built-in feminism #BB13#biggboss13

— * (@boredremy) October 8, 2019
Yes.. Never expected this fr #SiddharthShukla ..

Looks like either its all scripted or agar sach me,aisa,hai shukla to mushkil hoga safar..

Coz 1st galat bat per jhagda
2nd attitude 101%galat tha..#BB13 #BiggBoss #BigBoss13 #BiggBoss13

— ChetanaBB_fan?No Diplomacy (@ChetanaBB_fan) October 8, 2019
Siddharth ko har kisipe chillana hota hai bas.. araam se baat karne mei taqleef hai usko..he is going wrong now #BiggBoss13

— AFSHA AHMAD (@Afsha_Ahmad786) October 8, 2019
Siddharth Shukla was totally wrong in today's episode there was no need to talk about 'Aukat'
Good to see Rashmi responded him without looking or sounding like an uncouth person and the best thing is she didn't try to play victim

Go #RashmiDesai Go#BiggBoss13 #BB13

— ☃️ (@mystiqueflower_) October 8, 2019
#RashmiDesai Chup rahegi to bologe ki bechari banne ka natak karri hai
Abhi bola to bol rhe ho o BHI to chup nahi rehti
Yar #SidharthShukla sidhe aukat pe gaya
O mere 4 favorites mai hai
But seriously aaj uska sadakchhap behavior tha.#bb13#BiggBoss13

— Rushabh Reddy (@rushabh_reddy) October 8, 2019
#RashmiDesai is the lioness.
She gave back to #SiddharthShukla in his own style.

This is the Rashmi we want to see in upcoming episodes.#BiggBoss #BiggBoss13

— ⚽️Raees Happu- God of Thunder⚽️ (@HappuDroga4) October 8, 2019
#SiddharthShukla be wajah #RashamiDesai k upar gussa ho rha tha? There was no point at all in fighting with Rashmi cz what she ws telling was absolutely correct in my opinion #BiggBoss13

— Sayonaira (@jugnu_fire) October 8, 2019
Aaj ke episode me camera Baar Baar parathe par focus kar rha tha ?

Jha tak mujhe samaj aaya parathe patle hi the or kitne patle chahiye the arrogant #SidharthShukla Ko ??#BiggBoss13 #BB13

— Kobra ? ?? (@Kobra___25) October 8, 2019
Koi muje samjhayega ki ye Sadakchap #SiddharthShukla kis baat pr itna lad Raha hai #RashamiDesai se ??………Ab isko footage Khana nahi bolts Kya ??#BiggBoss13

— CHETAN SHARMA ?☺️? (@chetan_sharma10) October 8, 2019
Seems fans need want Siddharth Shukla to be as he was in the first week. Let's see whether he will calm down a bit or continue with the aggression ahead. What do you think about the whole matter? Let us know by tweeting to us @Bollywood_life.
Story Timeline