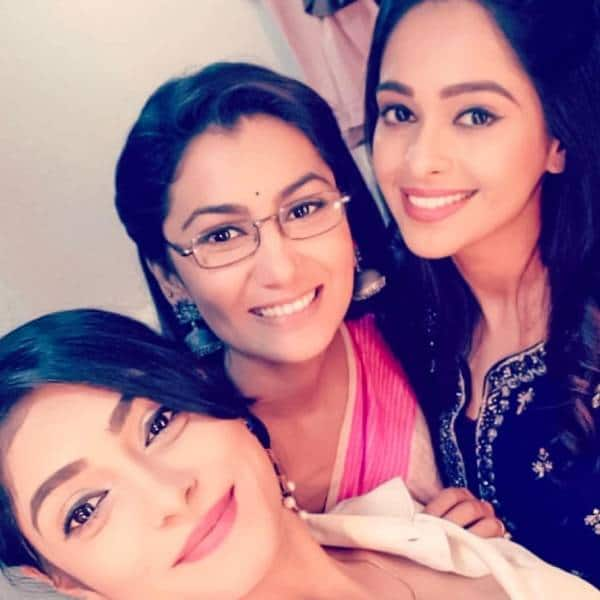 In the last episode we saw that the smugglers kidnap the pandit's daughter. They plan to force him to take the gold and melt it or they will kill his daughter. Abhi goes to meet Pragya at the hospital. However, Pragya leaves in a cab in front of his eyes. Abhi runs after her but cannot catch up. Prachi tries to tell Rhea that Ranbir is not a great guy. Rhea instead tells Prachi that Ranbir is the ideal boyfriend. To protect Rhea's feelings Prachi asks Ranbir to stay away from Rhea since he rejected her once already. Abhi decides to wait on the road till Pragya returns.
Tonight's episode begins with Meera going towards the store room. She sees the smuggler threatening the priest to kill his daughter. She gets very scared. The priest agrees to give the gold to the smuggler as he fears losing his daughter. Meera learns that the jewellery put on the statue of Lord Ganesha is smuggled. But before she goes outside, goons catch her. They take her to the store room. One of them shows some drug powder to the smuggler. Meanwhile, Aliya apologizes to Purab for sending him a message while he was with Pragya. Purab forgives her. By that time Pallavi comes there. She informs Purab that CM is going to come for Ganpati darshan so they need to welcome her. Purab agrees for the same. By that time he sees Disha entering the house along with the CM. Aliya sees his reaction on seeing Disha.
She goes inside. Purab and Pallavi welcome CM. Purab and Disha keep on staring at each other. While CM is about to leave from there, Disha expresses her wish to stay in the Mehra mansion for sometime. Purab goes inside. Disha follows him. On the other hand, Sarita cooks a lot of dishes for her grandson. She looks extremely happy with him. By that time Pragya enters the house with some medicines. She gets angry with Sarita for not taking rest. Pragya gives medicines to Sarita. But Sarita denies taking the bitter medicines. Pragya scolds her for the same. So Sarita agrees to take the medicines. Sarita's grandson appreciates Pragya for being strict with his grandmother and taking care of her. Pragya learns that Rishi works in the same company where Prachi works which is Abhi's company. Rishi is excited to meet Prachi and Shahana as he learns many incidences about them from Sarita. Rishi expresses gratitude towards Pragya for being there for Sarita. Sarita tells him that Pragya and her daughter will always stay with her as family.
On the other hand, the goon with drugs gets into an argument with the gold smuggler. He offers a deal to the smuggler. Meera listens to their entire plan of robbing the gold. The goons also make Meera unconscious by making her inhale chloroform. The priest goes to implement the plan as per the smuggler's instructions. Meanwhile, Disha tells Purab that she has something which belongs to him and she wants to return it to him. In the mean time, Rhea becomes suspicious about her friends as they overhear her and Prachi's conversation. Her friends confess that they had overheard the conversation about Ranbir. But Rhea pretends that she was just playing around. She also tells her friends that she is not with serious with Ranbir or any other guy. Aryanm overhears the conversation. Rhea keeps on pretending that she might break Ranbir's heart like she does with other guys. Rhea feels guilty for not sharing the truth that Ranbir really loves her as she would have to tell her friends that she is using Ranbir against Prachi.
On the other hand, goons take priest towards the statue of Lord Ganesha. They all apply some liquid to their noses and hands so that they will not get unconscious with the powder. One of them announces that the priest will be doing hawan in some time. He calls all for the same. Meanwhile, Ranbir meets a friend. He starts flirting with her. Prachi gets irked to see him flirting at such occasion. She sees Ranbir going inside with that girl. Shahana misunderstands that Prachi is staring at Ranbir because she likes him. Prachi follows Ranbir to collect proof against Ranbir and show it to Rhea. But Shahana decides to make Prachi accept that she likes Ranbir. On the other hand, Ranbir sees Prachi following him. So he pretends to be talking to a girl over the call and getting romantic. Prachi gets angry. She keeps on following him. In the mean time, the smugglers threaten the priest to kill him and his daughter if he fails to implement their plan. On the other hand, Ranbir enters a room. He pours some talc powder at the entrance of the room as he knows that Prachi will be following him.
Prachi (Mugdha Chaphekar) switches on the recorder on her mobile as she wants proof against Ranbir. But while entering the room, she slips from the powder. Ranbir makes fun of her. Prachi still determines to expose Ranbir in front of Rhea. Ranbir tells her that there will be a day when she will accept that he is a guy that anyone can fall in love with. After Ranbir leaves from there, Prachi wonders whether Ranbir knew that she was following him. In the mean time, Dasi tells Bijee about how Pragya and Abhi held the hanging light and stopped it from falling over the statue of Lord Ganesha. Later on Dasi gets upset with Bijee. Ranbir arrives there. He pacifies Dasi. Meanwhile, Disha returns Purab's ring to him. Aliya recollects that Purab had told her lie that he has given the ring for tightening to the jeweller. Disha asks Purab for the reason he had mentioned his name as her husband on the admission form. Purab tells her that he by mistake had hit her car while taking Aliya to the hospital. So he took both of them to the hospital and in hurry he made the genuine mistake of writing his name as her husband. Aliya overhears the entire conversation. She decides to adopt some different way to keep Disha away from Purab's life. Will Purab again get attracted to Disha? Stay tuned to find out.
Story Timeline