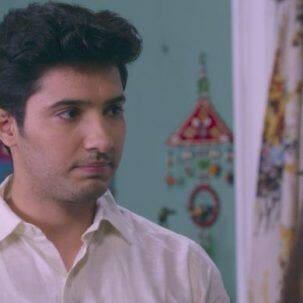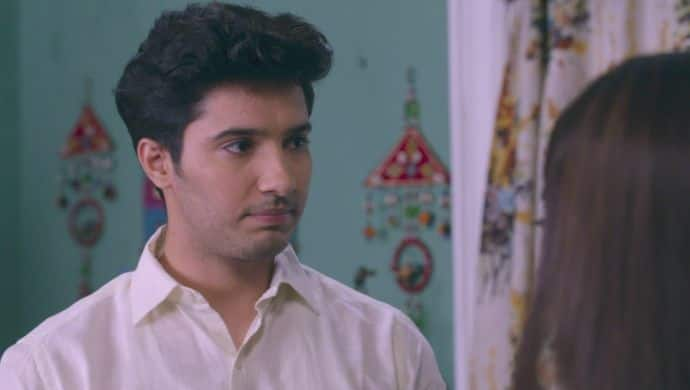 In the last episode we saw that Rohit sees Prachi in the town. So he bribes a cab driver to drop her at her house and inform him about her address. But before getting into the cab, Prachi bumps into Aryan and Ranbir. So Aryan gives her life to the home. Rohit gets jealous and decides to find out who Ranbir is. Meanwhile, Priyanka sees Shahana and Rishi together in the office as Shahana comes there to get the spare keys of the new house from Rishi. Priyanka gets very furious and revengeful as she cannot see Rishi with any other girl. She literally takes a knife to stab Shahana but Shahana leaves from there. Priyanka questions Rishi about Shahana. Rishi behaves rudely and leaves from there. So Priyanka decides to use some other way to pacify Rishi to marry her. She tries to be close to Rishi in Abhi's cabin with some emotional drama.
Tonight's episode begins with Priyanka's emotional drama. She hugs him and asks him to be with her always. Priyanka starts getting very touchy with Rishi. Rishi gets very furious. He tries to avoid her but Priyanka starts kissing him. She reminds him that they look nice as a couple.Rishi calls her crazy as earlier. He pushes her away and leaves from there. Priyanka keeps following him and calling out his name. But he goes to his desk, takes his bag and leaves from there. Abhi notices Rishi's shirt's button torn and his hair messed up. He becomes suspicious. He tries talking to Rishi but Rishi leaves from there. Abhi wonders about it.
In the next moment, he notices Priyanka coming downstairs and trying to stop Rishi. Abhi gets shocked to see Priyanka crying a lot and her dress also torn. He covers Priyanka with his blazer. He asks Priyanka about the person who did molestation with her. He takes Priyanka home as Priyanka says nothing but keeps crying. On the other hand, Pragya is setting the new house. Servant Madhu keeps on staring at her as she feels that Pragya is an actress. Pragya boosts Madhu's confidence by telling her that she is also very beautiful. Madhu gets delighted. By that time Rishi arrives at home. Pragya also wonders to see Rishi in such situation. She asks Rishi about it. But Rishi avoids telling her. Pragya observes the nail marks on Rishi's hand and neck by Priyanka.
Rishi asks Pragya whether he can use her room for the night. Pragya (Sriti Jha) allows him. Rishi goes inside. Pragya gets worried. She goes to a medical shop to get some ointment for Rishi's wounds. On the other hand, Shahana and Prachi reach to the old house. Shahana sees Rishi's photo. But goes to look for something in the cupboard. Sarita asks Prachi about one of her saree which goes missing. Sarita shares that the saree is lucky for her. Prachi calls her as superstitious and shares that she also feels that her mother's face is lucky to kick start her day. Sarita also feels that Rishi's face is lucky for her but also shares that she failed to see him in the morning. In the Mehra house, Vikram opens the door. Actor Ali Asgar aka Guddi enters the house for the promotion of the new upcoming show 'Movie masti With Maniesh Paul'. He does some masti with the members in the house. His character is getting popular with the name 'Cinema Darling'.
Meanwhile, Rishi lies down on the bed. He looks very disturbed. He keeps on recollecting Priyanka's behaviour with him. Madhu serves him food. By that time police arrive there. They arrest Rishi for molesting Priyanka. Abhi lodges the complaint against him. In the police station, Abhi is very disturbed as he had taken Priyanka's responsibility but he feels that he couldn't perform it properly. There is a flashback where Priyanka lies to Abhi about Rishi. She pretends that Rishi molested her in the cabin. By that time Vikram calls Abhi. He feels that Abhi is sounding low. Abhi is determined not to spare Rishi as Priyanka misleads him against Rishi. But as Priyanka asks him not to reveal anything to the family, he avoids telling anything to Vikram. But Vikram finds that something is wrong with Abhi. He gets worried. In the police station, Abhi gets upset with the police officers as they haven't taken Rishi in the police station. Stay tuned for more scoops and updates of the show.
Story Timeline