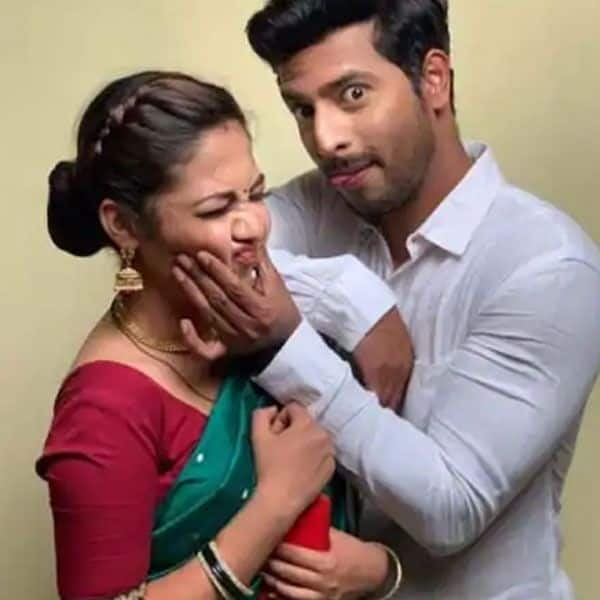 In the last episode we saw that Kalyani challenges Ketaki of trying to make Malhar and her separate. Meanwhile, Ketaki does another plan to trap Anupriya as she clicks a photo when Anupriya meets Atul. Atul tells her that he had seen Ketaki when he was in jail. He moves out to meet some of his friends to find out more about Ketaki but his mobile gets stolen and also someone attacks on him. Malhar misunderstands Anupriya for helping Atul who is the terrorist. So Malhar asks Kalyani not to talk to Anupriya ever. Tonight's episode begins with Malhar talking over the call when he feels like coughing having meal. Kalyani makes him drink the water to make him feel better. She tells him that she will always care for him when he is in trouble. Both of them remember the fight they had because of Atul. Kalyani gets hurtful so as Malhar. Malhar leaves the meal and goes out of the room. On the other hand, Aau Saheb feels sad for Malhar's accusations on Atul of being terrorist. She also feels like vomiting, Anupriya gives her a glass of water. But Aau Saheb gets furious with her and throws the glass of water on the floor.
Aau saheb also tries to instigate Anupriya against Malhar as he has asked Kalyani for not keeping any relation with her mother Anupriya. Atul's brother worries about getting a lawyer for Atul. Sarthak proactively agrees to take up Atul's case.Pallavi taunts Sarthak for accepting the case so that he can come closer to Anupriya. By that time Malhar listens the conversation. He gets upset with Sarthak but still determines to arrest Atul and other terrorists. Anupriya also asks Sarthak to leave from there rejecting his help. After a while, Kalyani and Anupriya cry as they cannot meet and talk to each other. Kalyani asks Anupriya about the conversation she had with Atul. Anupriya tells her about Atul's phone which was stolen before he could meet his friend. Kalyani still consoles Anupriya that it is a bad phase and she will expose Ketaki's real face in front of Malhar. Kalyani also assures Anupriya to prove that Atul is innocent. By that time Aau Saheb arrives there. She threatens Kalyani and Anupriya of informing Malhar about them talking to each other. She takes Anupriya inside. Next day, Ketaki is shown hitting her hands on bricks. Malhar comes there. He stops her from doing so. Ketaki pretends of not being able to protect herself.
Malhar (Sehban Azim) makes her calm down. He also assures her of protecting her. Ketaki also tells Malhar that she is always under tension of being attacked by the terrorists. She insists him to take her with him wherever he goes. Kalyani overhears the conversation. She determines not to let Ketaki go with Malhar. She enters the room and informs them that she has kept a veneration for the peace to the soul of Ketaki's husband. So that Ketaki cannot go with Malhar. Kalyani also pretends of being very caring for Ketaki. She takes Ketaki to the outhouse for the veneration. Ketaki gets very disappointed as Kalyani makes her plan fail. Meanwhile, Kalyani celebrates her victory on Ketaki. She also decides to contact Malhar's old friends to know more about Ketaki. By that time Atharva informs her that Anupriya is being attacked outside the house. Kalyani gets shocked to hear that and goes to the rescue of Anupriya. She sees that residents of the surrounding area hitting Anupriya with stones.
Kalyani gets very furious with the crowd for hitting her mom while she is alone. But the crowd keeps on throwing stones on them. Anupriya gets hit on head. Kalyani takes Anupriya inside. Ketaki receives the video clip of the entire scene. She plans to use the clip against Kalyani by showing it to Malhar. Meanwhile, Kalyani decides to take Anupriya to the hospital but Anupriya fears if Malhar sees them together. But Kalyani gets angry on her as Anupriya starts bleeding. She tells Anupriya that she doesn't care if Malhar sees them together. Kalyani asks Sampada to handle Moksh by the time she will take Anupriya to the hospital. Sampada wonders about it. Anupriya gets unconscious due to bleeding. Meanwhile, Aau Saheb goes to stop the crowd from accusing Atul but they dont listen to her and start hitting Aau Saheb with stones. Pallavi somehow manages to take Aau Saheb inside the house safely. After a while, Kalyani takes Anupriya in a big basket so that the crowd doesn't identify Anupriya. But the crowd identifies Anupriya. They start hitting Kalyani too. Kalyani gets angry. She throws the kerosene which she carries in her hand and threatens the crowd to set them on fire. Stay tuned to find out more.
Story Timeline